Growers & Producers
David Govier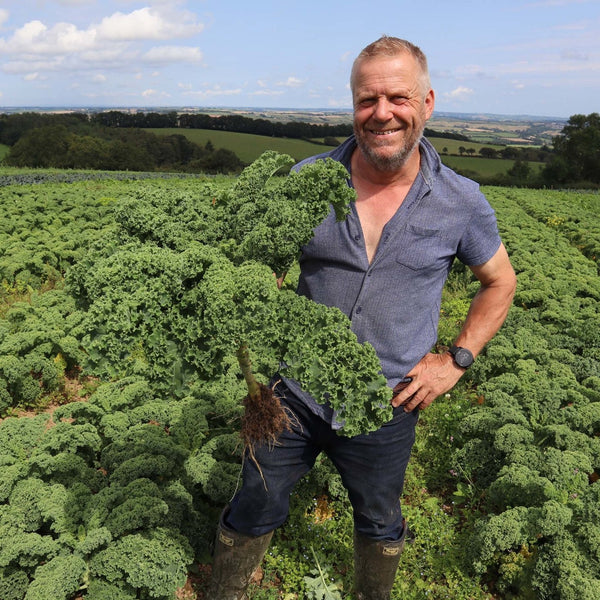 Langridge Farm is situated just outside the market town of Crediton in Mid Devon. Langridge has been farmed by the Govier family since 1969 and is now run by David Govier.
The farm consists of 270 acres of traditional mixed organic land amongst the rolling hills of Mid Devon.
The land is split between vegetable production, livestock, mainly sheep and mixed managed woodland, with approximately 170 acres being used for growing wonderful organic vegetables.
The farm started converting to Organic in 1983 and was all fully organic by the growing season of 1988. The soil is all grade 3 with, as David puts in his broad Devonian accent, 'no flat fields here'.
The farm boasts the most fantastic biodiversity with a fabulous array of wildlife ever present on the farm. In particular there is an amazing level of earthworms present in the soil which in practical terms makes the cultivation of the soil extremely easy.
David's main crops are spinach, chards, (of various colours) and kales including curly green and red, black kale, mainly Cavelo Nero and red kale, Red Russian. He also grows some wonderful purple and white sprouting broccoli along with hearty cabbage and the all-important sloes (for our own favourite Christmas tipple).
Discover more Growers & Producers
We personally select every one of our products from growers and producers, ensuring the highest quality. Read their stories and explore their produce.